A Powerful Article Directory Script
Need the best article directory script? WSN Knowledge Base will prove invaluable to your countent marketing strategy. It can autopost RSS feeds of prepared content from around the internet, be deployed as a CMS, or used as a simple knowledge base. The rich text editor allows easy composition. WSN KB offers a vast array of features and the option to translate to any language.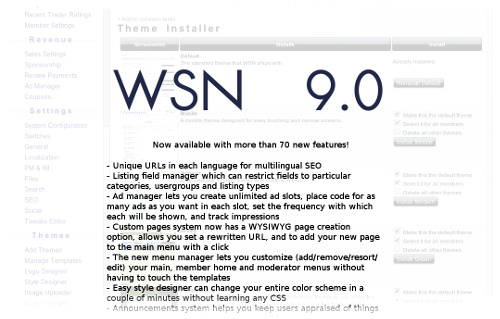 ---
Unlike most software, WSN Knowledge Base is fully committed to growing with you. With over a decade of regular software releases and steady support as proof, you know WSN will be there for you down the road — no matter where the road takes you.
WSN Knowledge Base 9.0.2 was released Monday, April 21, 2014 with these changes:
Fixed error message on editing categories.
Converted listing tools bar and footer menus to menu manager system.
"today's birthdays" switch now available for all scripts instead of just forum.
Added ability to rate themes on theme installer page.
If you've disabled automatic updates, click the upgrade link on the front page of your admin panel to get these patches.
---
Related PHP Web Scripts